Corporate Communication
A corporate brochure is a marketing tool used to advertise a service or product offered by a company. It serves as a means for spreading information about businesses. It is similar to a magazine, but it contains images of the goods or services that the company is trying to sell to its new or existing consumers. These business brochures can be printed or can be used as soft copy. Corporate brochures have a distinctive appearance that sets them apart from other printed advertising material like leaflets, catalogues, and direct mail letters. A corporate brochure can be helpful to both major enterprises and tiny start-up businesses as an inexpensive form of advertising. With the aid of clear and simple information, brochure content writing explains a company's structure, offerings, or avant-garde ideals. We help you to successfully sell a product, service, or an idea by providing you with the proper content in simple, catchy corporate brochures for your target audience.
Reach out to your audience in a better way!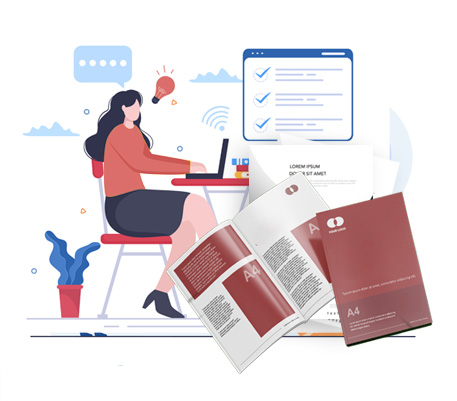 Building a strong, distinctive brand image is essential in developing a positive rapport with clients. They will be drawn to your brand and are likely to feel comfortable picking you over the competition if they believe that you both share the same values. Businesses can use a corporate brochure for a number of marketing initiatives. They can be distributed to specific clients on a mailing list after being personalised by adding a business card. The marketing of your goods and services can be greatly enhanced by a brochure that includes all the information. Readers like to locate the essential components of a good or service, and a decent brochure's content serves this function well. Usually, basic information along with the company name, a logo, and a tagline, etc. are included in corporate brochures. Some concise statements detailing the advantages your firm may offer should also be included in it. Any reader can glance at the brochure and get a good notion of the main ideas the flyer wants to get through.
Let's talk about how

Your Word

can help you.